The Woodpecker – original art fountain pen
Lisa Strachan's The Woodpecker was inspired by a tapestry designed by William Morris. A poet, designer, artist and activist, Morris was at the forefront of the British Arts and Crafts movement,  His fabric designs, tapestries, carpets, wallpapers and tiles all went against the grain of the Victoria era, which championed industrialisation and mass production, and instead he focused on making products by hand. Lisa can relate to this philosophy as she has recently completed a commission that involved embroidering 5m of fabric. Her painting of The Woodpecker pen was also a labour of love … it took her three solid weeks and many revisions until she was happy with it. The end result is superb and she has interpreted the original Woodpecker tapestry in her own style and made it dramatic and luxuriant.
The Woodpecker is linked to a poem by Morris, which draws on a legend from Ovid's Metamorphoses. It involves King Picus of Latium who was famous for using birds, and a woodpecker in particular, for divining the will of the gods. The sorceress Circe tried to seduce him, but when he rejected her advances she turned him into a woodpecker. Here is a photo of the original tapestry, which was designed by William Morris and made under his strict supervision at Merton Abbey: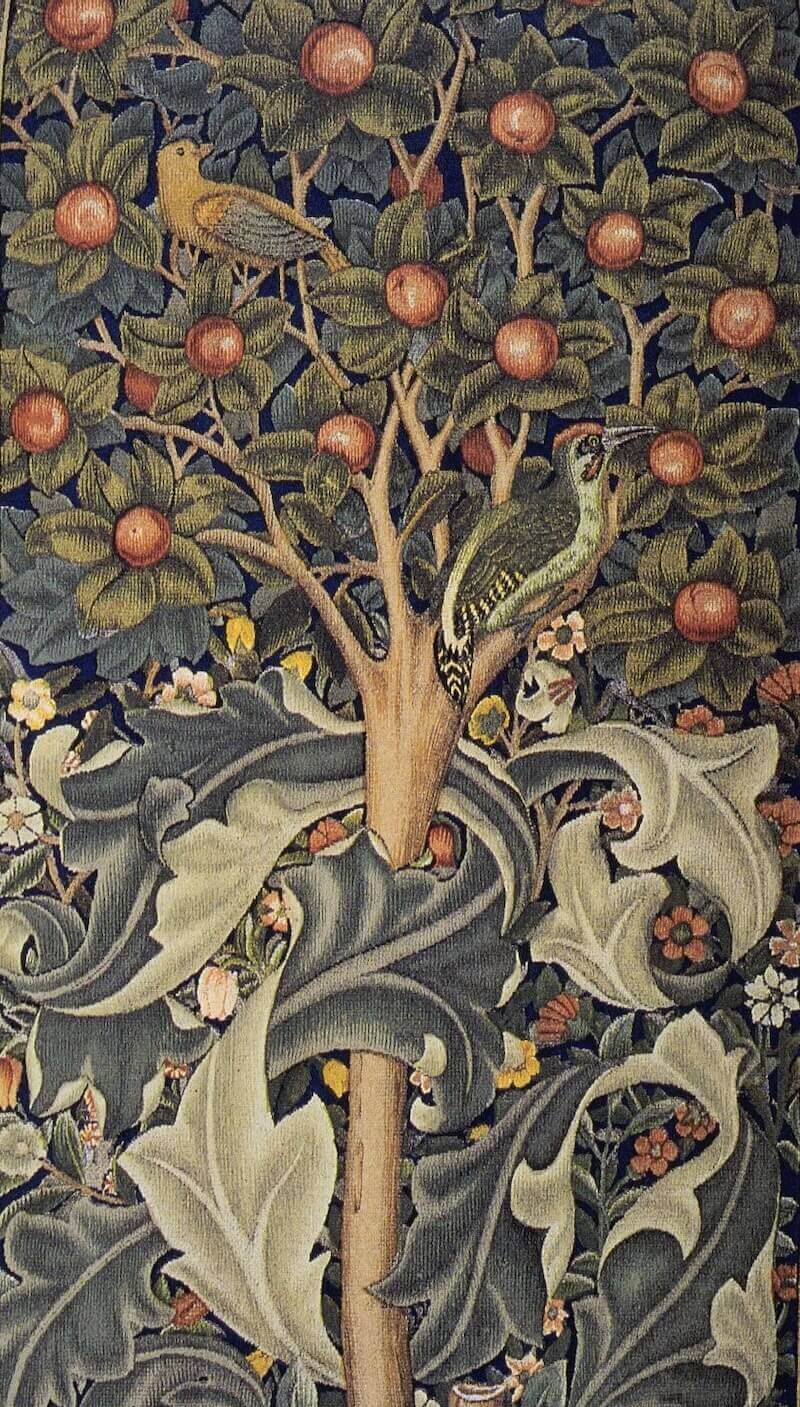 Lisa Strachan's rich interpretation of The Woodpecker is an original, one-of-a-kind work of art painted on to a pen made by us at Stanford Pen Studio. By encasing the painting in clear resin we enable to owner to carry it and use it on a daily basis without damaging the artwork.
This pen has a sterling silver cap band, section ring and logo medallion that is embedded in the cap's finial. We have added a glossy black grip section, and Lisa's initials are painted on the base of the barrel.
Nib:
Available in Jowo #6 in polished steel. Please select Fine, Medium or Broad at the check-out.
This is a gently curvaceous model, with a relatively wide girth of 16 mm (0,6″) narrowing to a 10,5 mm (0,4″)  grip section. It has our logo on the finial, and the finial is ever-so-slightly rounded, rather than dead flat, which adds to the pen's elegance.
| | | |
| --- | --- | --- |
|   | mm | inches |
| Total length (closed) |  148 | 5,8  |
| Length (pen only no cap) | 136  | 5,3  |
| Diameter at widest point (excl. cap) | 16  | 0,6  |
| Width of section at narrowest point | 10,5  | 0,4  |
| Section length | 25  | 10  |
| Cap thread | 14  | 0,5  |
The section can be made to fit either a Bock #6 or a Jowo #6 nib.
Standard international fountain pen converter (supplied) or ink cartridge.
SHIPPING
International shipping to your door via DHL Express is R350 and should take less than 10 days once despatched. Pens are securely packed.
Shipping within South Africa to your door is R60.
More information on this model is available

here

.